BOD POD
Take your weight loss and personal fitness management to the next level with the BOD POD body composition testing.
Quick, Simple, Effortless
Instant Results
FDA Approved Device
Repeatable – no radiation
Our BOD POD tests your body composition to provide a comprehensive analysis that will shed light on your overall health and provide outcome metrics for goal setting. 
​So, if Body Composition Analysis is what you're looking for, schedule a session today.
WHAT IS BODY COMPOSITION ANALYSIS?
You'll learn your body's percentages of fat and fat-free mass. Body composition testing (percent fat and lean) reflects the results of both physical activity and nutritional practices. Body weight alone can be very misleading. No scale can tell the difference between a pound of fat and a pound of muscle. Further, BMI is a crude measurement tool that can also mislead. Because the BOD POD is highly accurate, it detects small changes in body fat and lean body mass (i.e., muscle, bones and organs). Over time, people can gain fat and lose muscle, without an obvious change in their weight. Excess body fat has been found to increase the risk of diseases such as cancer, diabetes, and heart disease. The Centers for Disease Control and Prevention (CDC) has declared obesity an epidemic, over half of adult Americans either overweight or obese (having excess body fat). This test is the ultimate tool for tracking your progress because it reliably tells you how much lean muscle you have gained and how much fat you have lost.
Only by accurately measuring body composition will you learn the amount of fat and lean tissue that makes up your weight, enabling sensible decisions regarding nutrition, sports nutrition and exercise programs. It's the best way to get the "whole picture" of what's really going on in your body.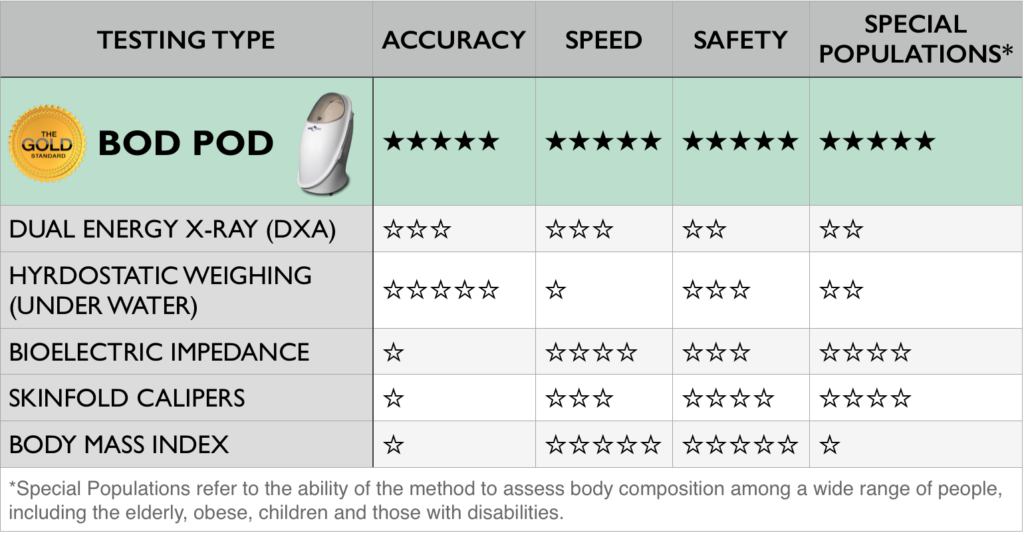 BOD POD Rates
| | Member | Non-Member |
| --- | --- | --- |
| Per Test | *$35.00 | *$45.00 |
Here you'll find a series of frequently asked questions. If you're interested in learning more about effective techniques employed by Provision Nutrition, or have any additional questions after going through this small FAQ list, get in touch and you'll get an answer ASAP.
WHAT ARE THE BENEFITS OF A BOD POD ANALYSIS?
Because the BOD POD is highly accurate, it can detect even small changes in body fat and lean body mass (i.e., muscle, bones and organs). Body composition is one of the best indicators of overall health. The feedback you receive from your BOD POD test can be used to measure the success of your nutrition and/or exercise program, monitor for obesity, a risk factor for major diseases, like stroke and diabetes, help you lose or gain body fat safely, fine tune your athletic performance and more.
HOW LONG DOES AN ASSESSMENT TAKE?
You will be sitting inside the BOD POD cabin for about 3 minutes. However, during that time, the door will be opened and closed between two 50-second trials. Total time including paperwork and explanation of the results is approximately 25 to 30 minutes.
Simply sit comfortably and quietly, relax and breathe normally and the BOD POD does the rest. Sounds relating to the valves opening and closing may be heard, but most people are unaware of the slight pressure changes that take place. You may notice a feeling similar to being in an elevator or the initial take-off in an airplane.
For more information, please contact Kelly Sherman; kellysherman@my-cbrc.com