Augie's Quest MYZONE Challenge
Challenge May 1st-June 18th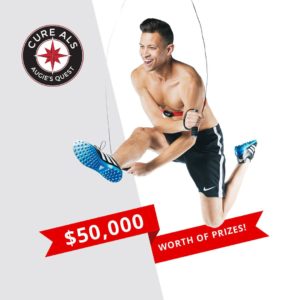 How much is $15.01 worth to you? Is it worth getting healthier? How about supporting a potential cure for ALS?
The Augie's Quest Myzone Challenge is a Myzone Effort Points (MEPs) challenge where all proceeds support Augie's Quest and ALS research.
This challenge is made possible by Myzone–makers of cutting edge fitness technology designed to help you have more fun and get more results from excercise than ever before.
For a $15.01 donation, you can support a noble cause and compete in this Myzone challenge for amazing prizes like fitness equipment, luxurious vacation packages, and more!
You'll need a Myzone Physical Activity Belt to participate in the Augie's Quest Myzone Challenge. Don't have a Myzone Physical Activity Belt?  Get yours today for more than 50% off the standard price of $149.99, only $65 for a limited time. After making your donation of $15.01 or more you'll have access to the link to get your discounted belt.
Learn more about the challenge and to register/donate click here.