After nine months, and $1.6 million, the locker room renovation is finally at an end.
December 1st will be move in day for the ladies.
Thank you so much for your patience and forbearance during this time.  You have all been fantastic, and we think you will be as excited about the new locker rooms as we are.
So, what's new?
In a word – everything.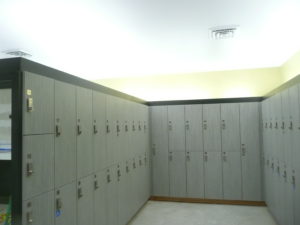 Every pipe was ripped out and replaced with new plumbing.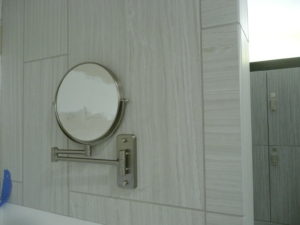 Every wire was pulled and replaced with new wire.
Every toilet, shower, and locker.
We now have individual, private showers.  And, at the request of our members, private changing stalls.
The lockers are all new, with three different sizes.  Some are just big enough to hold your wallet and phone, some for your purse, and some regular, half size lockers, for everything else you need.
There is a new 18-foot-long vani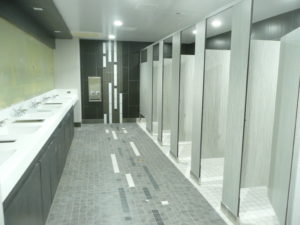 ty, with six grooming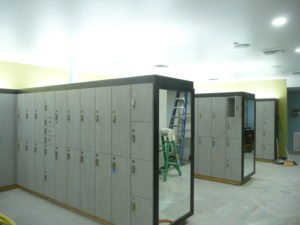 stations.
All detours through the parking lot and hallways will be over soon.
The project is completed on time and on schedule.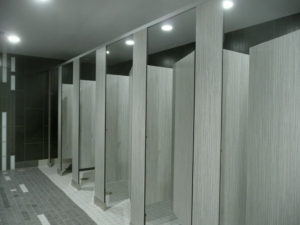 There are just a couple small "punch list" items left in the family suites.  So, after the ladies move back into their locker room, these will be taken care of.  They include small things like tile and shower doors.
The only thing remaining for the ladies' locker room will be the vanity mirror, which is a little late in arrival.  It should come in around the 15th of December.  It will be installed after club hours, so no one will be affected by it.
The old locker rooms were thirty-six years old.  We are proud to say that with our hard work, and your understanding and patience, we will not have to replace the locker rooms for at least another forty years.
We wish you good health,
Columbia Basin Racquet Club