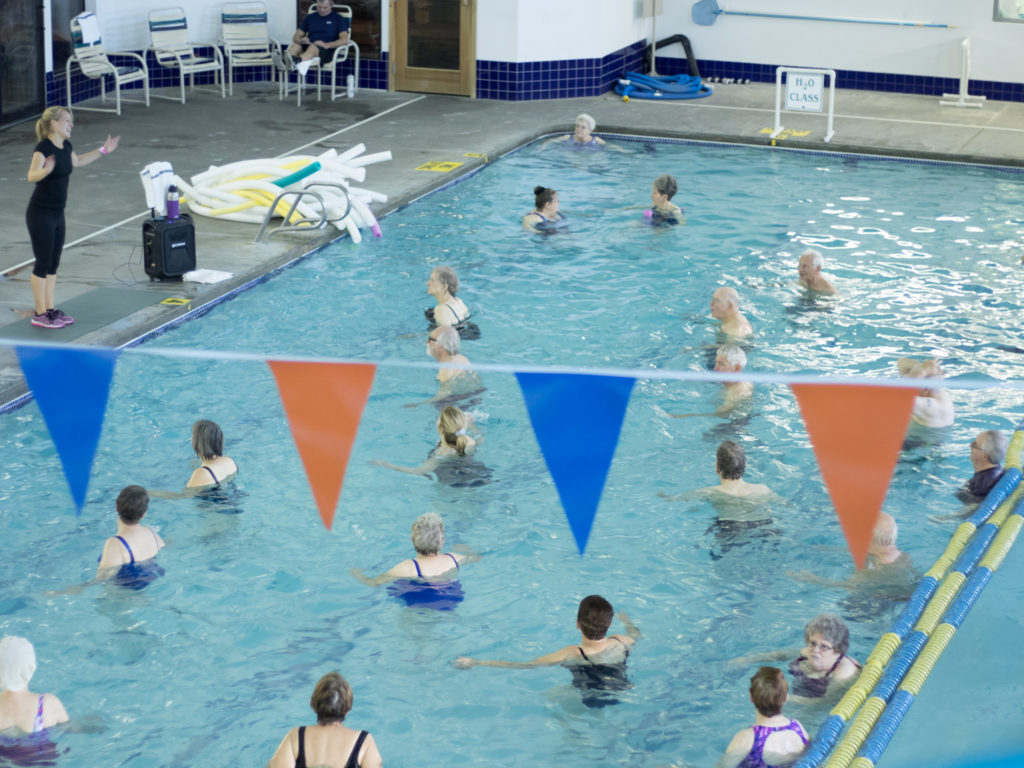 Pre-natal & Postpartum Water Exercise:
Group exercise class offers a social and educational setting for a healthier pregnancy. This aerobic class is designed to have you cushioned and supported in the water while providing a cardiovascular and strength workout. The soothing effect of the water provides a safe and conducive environment for prenatal exercise. For women who have just had a baby, this (mom's only) fitness class jump starts the drive to get back in shape at the right pace.   *A note from your doctor is required before starting class.
Class Includes:
Modified water aerobics and muscle conditioning
Pelvic floor muscle exercises
Information and sharing
Core strengthening (back and abdominals) exercises
Stretching and relaxation
Benefits of Exercise:
Exercise performed safely during pregnancy can:
Lessen your fatigue
Reduce backaches
Increase your endurance during labor
Improve your mood and self-confidence
Improve posture and balance
Require less time to recover from childbirth
AQUA SIZE:
The resistance of the water provides a fitness challenge for both the beginner and seasoned athlete looking for cross training options with lower impact and less stress on the joints. Each movement in the water provides 7x the resistance of a similar movement in the air! These classes include a balance between cardio-fitness and muscle conditioning segments.
AQUA LITE:
Designed especially to increase mobility with range of motion while increasing strength and flexibility in a low impact environment. This is an enjoyable class with a loyal, fun-loving group.
AQUA LITE PLUS:
This class is designed to combine the best of both the Aqua size and Aqua Lite. You will enjoy exercises to increase cardio fitness and muscle conditioning along with others to increase range of motion,all while increasing strength and flexibility.
AQUA TABATA/INTERVAL:
This is an intense, 45-minute, cardio focused workout that incorporates timed interval techniques to increase both strength and endurance. An excellent addition to any fitness regimen.