Columbia Basin Racquet Club's Adult Tennis Program is designed for all adults who enjoy tennis. There are classes for many different ages and purposes including Adults 50+, Cardio Tennis, Beginners, Boot Camp, and more.
Organized matches include Ladies Day on Thursday morning, Ladies Night on Monday evening and Men's Night on Wednesday evening are temporarily on hiatus. We hope to resume these programs in the near future. In addition we offer Mixed Doubles play (ask for details), social events, USTA teams, tournaments, and much more.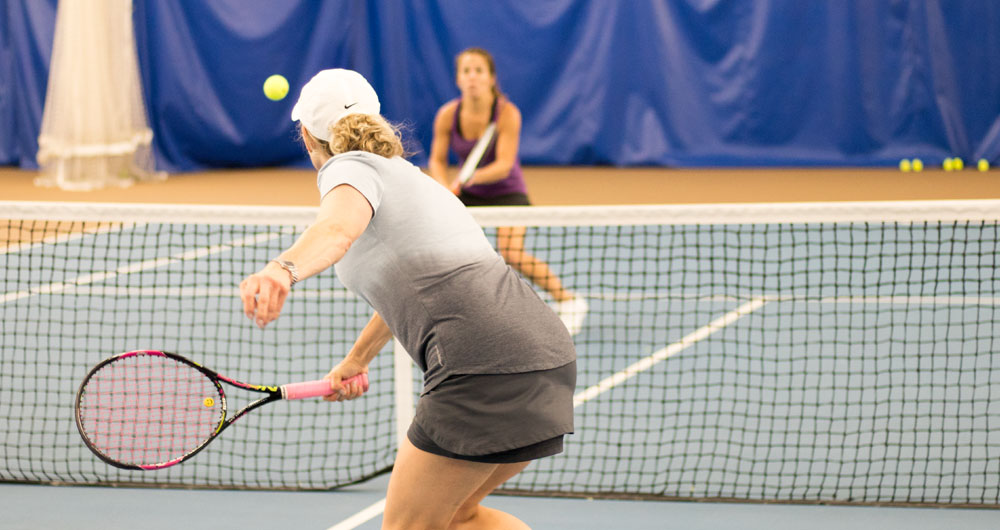 Fall Session I: Sept. 23 – Oct. 17
Register here or click here for more information.
Adult Beginner Tennis
Adults just getting started in tennis are invited to join this class! Players will learn basic technique, grips, court positioning, singles and doubles concepts, and general rules of the game.  If you have never played before this is a great intro to the sport!
Boot Camp
This is a hitting class for 3.0+ levels that will work on specific shots.  The class will have a lot of competitive points that will be both half court or full court depending on the number of participants.  Drills will vary week to week but will be primarily doubles based and focused on a transition game.
Hidden Title
Extreme Cardio – Level 11
Take your tennis fitness to the next level!  Use this class to develop the stamina you need to endure long tennis matches with this ultimate full-body and calorie-burning workout.  All levels are welcome.  Come prepared to work.
Hidden Title
Adult Hit Group
Adult Hit Group is for the 3.0+ player that hits with medium pace, but is not yet comfortable with all strokes
and still working on executing shots. Emphasis is on directional control, depth, and power control.
Patterns of play will be explored and focus will be on developing specialty shots.
Hidden Title
3.0 Doubles Strategy
This class is designed to work on learning the progression of the point, stick to or move positions on the court and read the progression of the ball through point play.
Hidden Title
3.5+ Doubles Strategy
Talk strategies, various court and recovery positions, how to play off of your serve and much more!  Jana will take you through her thoughts on doubles strategy.  This class is for USTA Tournament players that are rated 3.5+.
Hidden Title
Technique Class – Serving
Learn the correct way to hold the ball, how to toss the ball, the grip, rotation, string drop and racquet flick.  We will spend 8 weeks going over each step of the serve.  All levels are welcome because we will not have a lot of live ball hitting.  We will be starting with one idea each day and progressing from there.
Hidden Title
Consistency Class
Consistency Kills!  That outlasting mentality is what you need to develop you strokes into a habit.  Move your feet, prep, and keep it in.  Learn how to get more balls in play with this class.
Hidden Title
50 & Fit Tennis
50 & Fit is designed to keep those adults 50 and older moving on the tennis court!  Need a minimum of 4 participants to run this class.  No drop in rate, please sign up!