Columbia Basin Racquet Club's Junior Tennis Program is designed for all youth ages 4 to 18. There are classes suited to each player's ability and goals. Our teaching professionals will work with the player and parents to determine the best path to success.
HOW TO SIGN UP FOR JUNIOR TENNIS LESSONS:
OPEN/DOWNLOAD THE PACKET
Pick a tennis level–either from your child's experience or our recommendation
Pick a class day and time that works for your player (this information is available in our brochure and at the online registration)
Fill out the updated COVID waiver for each participant and return to cbrcaccounting@my-cbrc.com
COVID Guidelines:
Please fill out the COVID waiver for each child participating and return to cbrcaccounting@my-cbrc.com
Pre‐registration is required for all classes! No drop‐ins at this time; classes are limited to five players per Coach. Pro‐rating is available for late start into the session.
All instructors will be wearing face coverings when they are speaking directly to the students or within 6 feet. Please provide your own water bottle & towel. Some loaner racquets will be available for Pee Wee & Junior Academy students and will be sanitized before & after use. Parents/guardian will be allowed to stay on‐site outside during lesson. Please maintain correct social distancing while watching.
Make‐up classes due to weather may be offered during the session at specific times/days. Please contact the teaching pro for more information. Absences due to illness or other personal reasons will not be made up.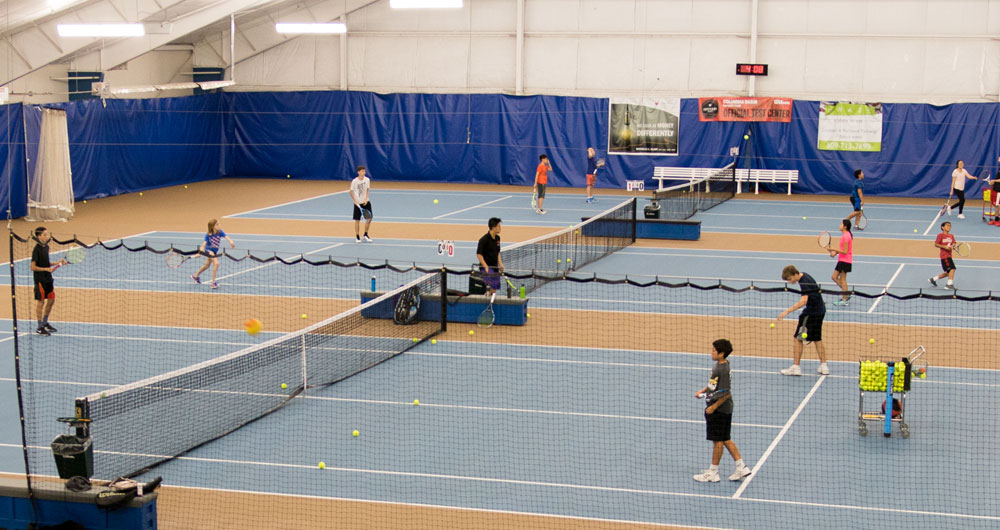 Register here or download the flier.
Junior Tennis Schedule
Fall Session I: September 8-October 16
For more information please contact michaeldublin@my-cbrc.com.
Pee Wee Tennis (Ages 4-6)
Smaller courts, smaller racquets, and foam/red balls are used to get the youngest players at a level where than can comfortably progress into the next level of our program, all while having fun! Pee Wee's will develop hand‐eye coordination, movement, balance, and athletic skills. Lots of throwing, swinging/
catching/running games, and tennis techniques. This is a 30‐minute class.
Junior Academy (Ages 7-9)
For juniors age 7‐9 who have had little to no exposure to tennis. Emphasis on basic stroke development, rallying on a 60‐foot court, learning how to keep score, all while making friends and having lots of fun. They use low compression red & orange balls.
Academy (Ages 9-14)
For ages 9‐14, based on skill set. Age groups will be separated as needed. Students have had some instruction and have a desire to continue to learn and eventually play on their school's team. They can get serves in, are becoming consistent in rallying, and have good contact playing on a full‐
size court. They can keep score, play games, and are beginning to add power and placement. Drills and games are competitive. Can begin to play in novice tournaments. Green dot & yellow balls are used.
Team CBRC Elite (Ages 14+)
Ages 14+, based on skill level. This class is designed for junior players who have come up through the CBRC Tennis program or display technique consistent with the Elite level. Students usually are taking private lessons, play at a high level on their school's team and/or are playing tournaments regularly. They display proper technique, have developed on‐court weapons, are learning winning strategies, work on their fitness off‐court, and take their tennis seriously with a desire to play college tennis. Class emphasis will be on improving footwork, strike zones, goal‐setting, consistency, conditioning, mental toughness, and patterns of
play.