There is always a lot going on at CBRC Health & Wellness Clinic, so we write a monthly newsletter to help keep our members informed of all of the planned activities and improvements.  The newsletter also includes upcoming events and schedule changes, fitness advice, member stories, programs and events, nutrition tips, wellness information, and much more. Below you will find links to the archived monthly newsletters.
December 2021 Newsletter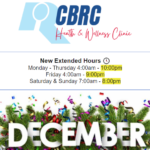 Get the latest news delivered to you!