What is Alloy?
ALLOY IS POWERFUL. IT'S WHERE STRENGTH MEETS MOTION.
Two things combine to create something more substantial, more powerful, and longer-lasting. Alloy is a premiere personal training system that provides proven results in layers!  We know that people do better with coaching, encouragement, support, and accountability. Are you ready?
The new schedule begins April 3rd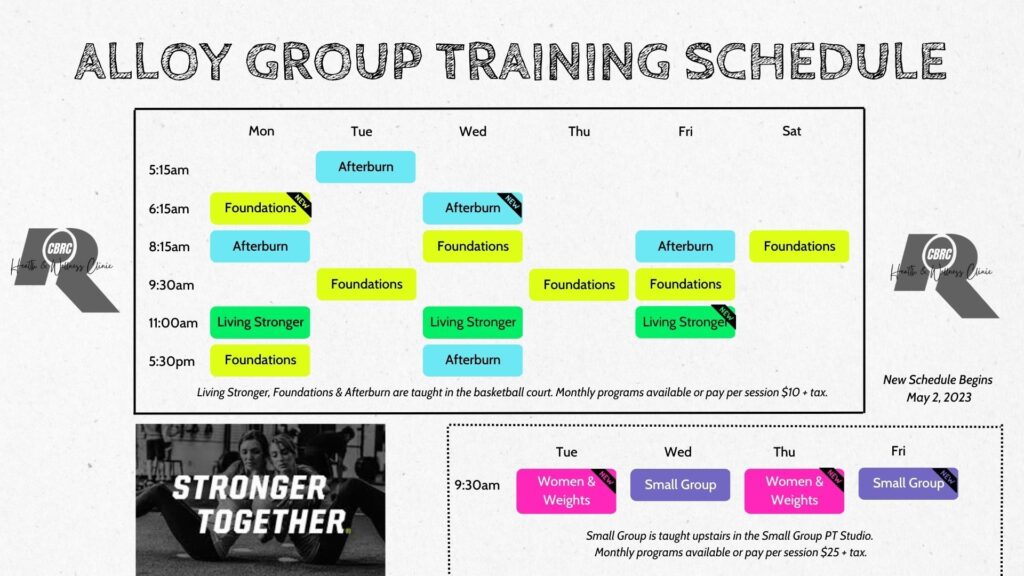 It is a FUSION and VARIETY of exercises that are:
Corrective
Dynamic
Metabolic
Mobility Focused
Strength-Based
Team Training: Motivated groups of 6 or more
Living Stronger: FITNESS, AGING, AND NEUROCOGNITIVE FUNCTION. Research has shown that aerobic, strength, and flexibility training has a positive effect on cognition. Living Stronger will focus on flexibility, aerobic and strength, and neuromotor "true functional fitness."
Foundations: You can't build a home without a great foundation. Likewise, before we begin to develop more advanced layers of fitness, you first need to establish proper movement and a base level of conditioning. With a challenging, full-body program, Foundations will ensure that you avoid injury, make progress at your pace, and begin the path to success.
Afterburn: Many people strength train with weights, while others do cardio or aerobics. Somewhere in between is Afterburn, the ultimate fat-loss workout. Some of the tools and techniques may seem new to you, but many have been around for over 100 years! Not only will you burn up to 1,000 calories an hour, but you will continue to burn fat and calories up to 48 hours after your workout is complete.
Industrial Strength: Want to get stronger, slimmer, and more athletic? I.S. is the solution. Working with heavier loads and fewer reps means more strength without bulk. This program combines old-school tools with modern science to provide you with the fastest path to better strength and conditioning.
Small-Group Personal Training/Women & Weights: Groups of up to 6 participants
Looking for a little more attention? In the Small Group setting, we will place you in the proper level of training for your goals and concerns. During your training sessions, you will meet with one of our certified trainers in our Small Group format. In this personalized setting, you will benefit from in-depth instruction while focusing on your goals.
What is the cost
?
Alloy Group Training is a monthly cost and is available for CBRC members only.
Get Fit! Have Fun! Love
 Life!
What is the Starting Point?
At the Starting Point, you will meet with a Certified Personal Trainer to review your health and wellness goals and needs, you will also go through a functional movement screen (FMS) to observe any movement restrictions you may have.
Do I have to do the Starting Point/FMS?
The Starting Point/FMS is crucial to conduct before any workout regimen you may be pursuing. Assessing your current movement/mobility allows CBRC's Certified Personal Trainers to place you in a program that will give you the best results.
How long will it take?
The Starting Point will take approximately 45-60 minutes.
What should I wear/bring?
Please wear clothing that you are comfortable working out in and water. Your appointment will conclude with a workout.
Where do I go?
Please meet at the Fitness Desk located on the lower level just across the running/walking track in the Fitness Center.
How early should I arrive?
Please allow enough time to change into your workout attire and arrive at the Fitness Desk approximately 5 minutes before your scheduled appointment.
What do I do if I need to reschedule my appointment?
Please contact the Front Desk at (509) 943-8416 to reschedule.

If you have any questions please feel free to contact Fitness Director Morgan Fewel at morganfewel@my-cbrc.com or 943-8416.