What is Functional Group Personal Training?
QUALITY TRAINING WITH A PURPOSE
Functional group personal training is a form of strength training that prepares your body for routine activities. These exercises are essential for real-life scenarios such as bending, lifting, twisting, and loading. By incorporating functional fitness training into your routine, you equip yourself to handle these physical demands with ease.
Functional group personal training offers numerous advantages to individuals of all fitness levels, ages, and exercise backgrounds. These programs can aid in muscle development, calorie burning, and improving aerobic capacity.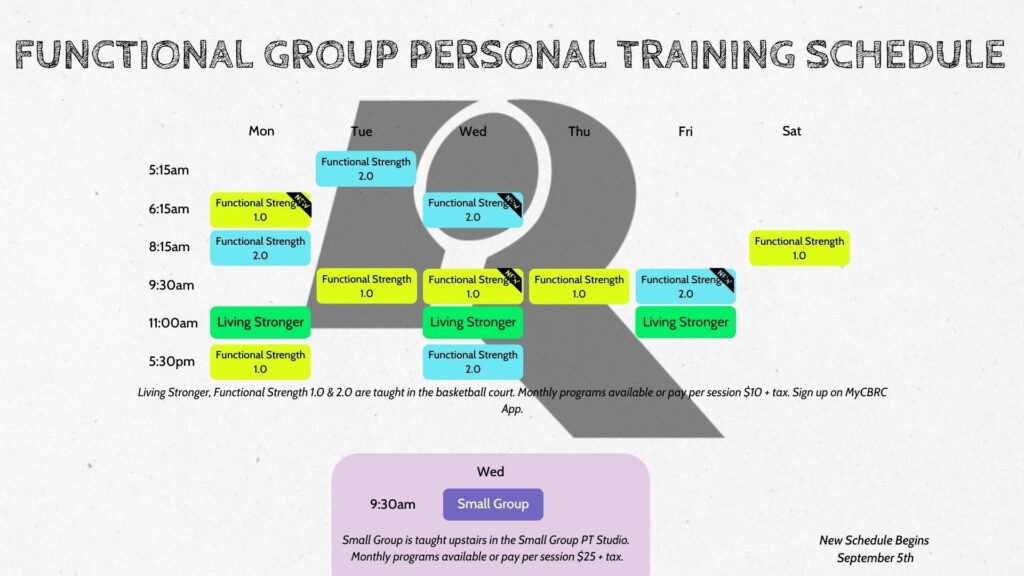 Functional Group Personal Training Class Descriptions:
Living Stronger: FITNESS, AGING, AND NEUROCOGNITIVE FUNCTION. Research has shown that aerobic, strength, and flexibility training has a positive effect on cognition. Living Stronger will focus on flexibility, aerobic and strength, and neuromotor "true functional fitness."
Functional Strength 1.0: You can't build a home without a great foundation. Likewise, before we begin to develop more advanced layers of fitness, you first need to establish proper movement and a base level of conditioning. With a challenging, full-body program, Functional Strength 1.0 will ensure that you avoid injury, make progress at your pace, and begin the path to success.
Functional Strength 2.0: Many people strength train with weights, while others do cardio or aerobics. Somewhere in between is Functional Strength 2.0, the ultimate fat-loss workout. Some tools and techniques may seem new, but many have been around for over 100 years! Not only will you burn up to 1,000 calories an hour, but you will continue to burn fat and calories up to 48 hours after your workout is complete.
Small-Group Personal Training: 
Looking for a little more attention? In the Small Group setting, we will place you in the proper level of training for your goals and concerns. During your training sessions, you will meet with one of our certified trainers in our Small Group format. In this personalized setting, you will benefit from in-depth instruction while focusing on your goals.
What is the cost
?
Functional Group Personal Training is available at a drop-in rate of $10 per class or unlimited monthly. These programs are only available to CBRC Members.
Get Fit! Have Fun! Love
 Life!
What is the Starting Point?
At the Starting Point, you will meet with a Certified Personal Trainer to review your health and wellness goals and needs, you will also go through a functional movement screen (FMS) to observe any movement restrictions you may have.
Do I have to do the Starting Point/FMS?
The Starting Point/FMS is crucial to conduct before any workout regimen you may be pursuing. Assessing your current movement/mobility allows CBRC's Certified Personal Trainers to place you in a program that will give you the best results.
How long will it take?
The Starting Point will take approximately 45-60 minutes.
What should I wear/bring?
Please wear clothing that you are comfortable working out in and water. Your appointment will conclude with a workout.
Where do I go?
Please meet at the Fitness Desk located on the lower level just across the running/walking track in the Fitness Center.
How early should I arrive?
Please allow enough time to change into your workout attire and arrive at the Fitness Desk approximately 5 minutes before your scheduled appointment.
What do I do if I need to reschedule my appointment?
Don't hesitate to get in touch with the Front Desk at (509) 943-8416 to reschedule.

If you have any questions please feel free to contact Fitness Director Morgan Fewel at morganfewel@my-cbrc.com or 943-8416.