Pelican Bay Hours
Closed for the season.  See you in 2023!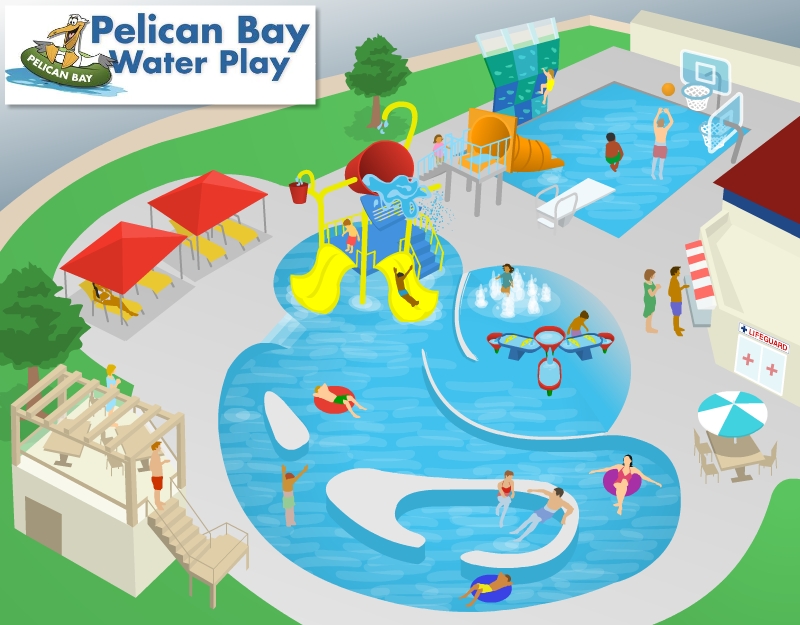 Pelican Bay Water Play Rules and
Information
Lazy River – Take a relaxing or adventurous float down the river, fun for all ages.
Zero-Depth Entry – A beach-style entry perfect for anyone from 1 – 100.
Interactive Water Features for Toddlers:

Cascades – Splashpadders must work together to keep the water flowing from one piece to the next in the Cascade, giving everyone a chance to participate and encouraging team play.
Bubblers – Soft, frothy water gurgles up from ground sprays to form the Bubblers. The gentle, soft texture of the frothy water encourages little ones to place their hands in the water to feel the effect.

Interactive Play Structure with Dumping Bucket

Dumping buckets, splashes and sprays, slides, and more. Children of all ages will enjoy the fun this toy provides.

Diving Board

Cannonballs, dives, and more!

Drop Slide

A drop awaits at the end of the tunnel; take the plunge if you dare!

Climbing Wall

As if rock climbing wasn't hard enough, the AquaClimb takes the challenge to a whole new level! A 12-degree pitch awaits anyone daring enough to try.

Basketball Hoops

Challenge your friends to a game of hoops or play a round of FISH… aqua style.

Party Rental

Party Rentals and Group Rates are available in the Pelican Perch or at Pelican Landing for Birthdays, Church Groups, Corporate Parties, Family Reunions, and more!

Pool Side Concessions

Belly up to the Sand Bar and grab a bite to eat, a drink to quench your thirst, a tasty treat, or something cold to cool you down.

Shade

Relax with a good book or a good friend in the shade while your children splash away.
Pelican Bay Rules
No running or horseplay. This includes running into the zero-depth leisure pool.
Shower before entering the pool.
No food or drinks (other than water) in any pool. Eat only in designated areas.
No standing on deck chairs.
No diving allowed.
No climbing on or standing on islands in the lazy river.
No smoking in the pool area; smoking is permitted outside the fence only. If you are smoking, you will be asked to leave. This includes e-cigarettes.
Children under 6 years of age must be accompanied by an adult at all times.
Lifejackets are allowed. Parents must be within arms reach at all times.
If you have open sores, bloody noses, or communicable diseases – experiencing flu, vomiting, or diarrhea symptoms (within 2 weeks) you may not use the pool.
Appropriate swimming attire only. No basketball shorts, workout shorts, jeans, or cutoffs. Workout gear is not swimming attire.
Let the lifeguard know, and swim with a buddy, if you have any serious medical conditions such as seizures, heart conditions, diabetes, hypoglycemia, etc.
No outside floatation devices in the leisure pool; clear CBRC inner tubes ONLY.
No glass of any kind.
Children not potty trained must wear a swim diaper at all times. Anyone wearing diapers must have a protective covering to prevent contamination. Please change diapers in designated areas.
First Aid Kit and Emergency Phone are located inside the lifeguard office.
Anyone refusing to obey the above rules or any request made by any of the pool staff is subject to removal and/or suspension from the premises.
The maximum number of persons in the leisure pool is 340.
Outdoor Pool Rules
Diving is only allowed in depths greater than 5 feet.
No playing or hanging on the lane lines.
No running, pushing, loud play, or horseplay in, or around the pool and deck area.
No alcoholic beverages or drugs of any kind are allowed. If you are under the influence you will be asked to leave.
No glass bottles, chewing gum, or tobacco are allowed in, or around the pool and deck area.
No street shoes, athletic shoes, or clothes are allowed in the pool area (employees exempt).
A full cleansing shower must be taken before entering the pool.
Swimming attire: swimsuits only (drawstring and inner liner mandatory) for men swimsuits (not sports bras/workout gear) for women.
All toys and floatation devices are at the guard's discretion. No standing on kickboards.
Non-approved swimming aids or devices are prohibited around the deck area and in the pool.
All non-swimmers must stay in the water below their shoulders or wear a U.S. Coast Guard-approved personal floatation device.
Children not potty trained must wear a swim diaper at all times. Anyone wearing diapers must have a protective covering to prevent contamination. Please change diapers in designated areas.
First Aid Kit is located at the lifeguard stand.
The maximum number of persons in the outdoor pool is 148.
Diving Board Rules
No Lifeguard = No Diving Board Usage.
Only one person on the board at a time.
Only one bounce is permitted.
All jumps are at the discretion of the Lifeguard.
Basketball Hoop Rules
No dunking or hanging on the basketball hoop.
No basketball during swim lessons.
Climbing Wall Rules
No Lifeguard = No Climbing.
Only one climber at a time.
All falls must be feet first.
Drop Slide Rules
No Lifeguard = No Slide Usage.
One person on the slide at a time.
All persons shall use the slide feet first.
Attention:
Persons with open wounds, wearing adhesive bandages, with known infections, or sickness should not enter the pool.
A parent or guardian of at least 18 years must accompany children under the age of 17 when a lifeguard is not present.
Authority rests with the pool attendant; one warning is sufficient, and failure to comply is the reason for ejection.
Inclement Weather
In the event of inclement weather, which may include thunder, lightning, heavy rain, any kind of serious storm or unsafe situation that limits lifeguard visibility or patron safety, the outdoor aquatic areas of CBRC Health & Wellness Clinic will be cleared including all pool decks. Patrons will be directed inside the building until the deck is safe, the storm passes, or CBRC staff chooses to close Pelican Bay for the day. Please call the Club (509)943-8416, before visiting in the event of inclement weather. We will update the website (https://www.facebook.com/pages/Columbia-Basin-Racquet-Club/75101837363 ) if Pelican Bay closes due to weather.