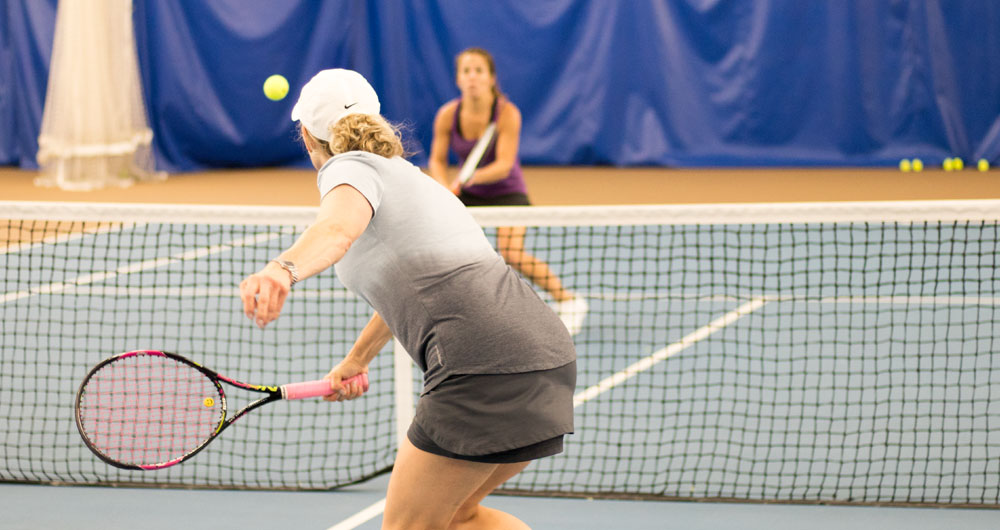 CBRC Health & Wellness Clinic's Adult Tennis Program is designed for anyone who enjoys tennis or wants to learn how to play. Join our Adult 3.0 Hit Group for intermediate & advanced beginners to hone your skills or get a great all-around workout in with our 90-Minute Boot Camp class. Both classes are on a drop-in basis.
---
Adult Leagues
Mixed Doubles League: Wednesdays 6-7:30 PM
Must sign up weekly on Club Automation. Sign-up opens the Wednesday before and closes the Monday before. Open to Full Club members only. Minimum playing level of 3.0. 2.5 level at Pro discretion.
Senior Leagues: Tuesdays 1-2:30 PM, Fridays 11:30 AM-1 PM
Our Senior Leagues are member-organized. Please contact the Tennis Department for more information. Free to all CBRC Full Club Members.  Call 509-943-8416 and ask the Tennis Department if you have any questions.
---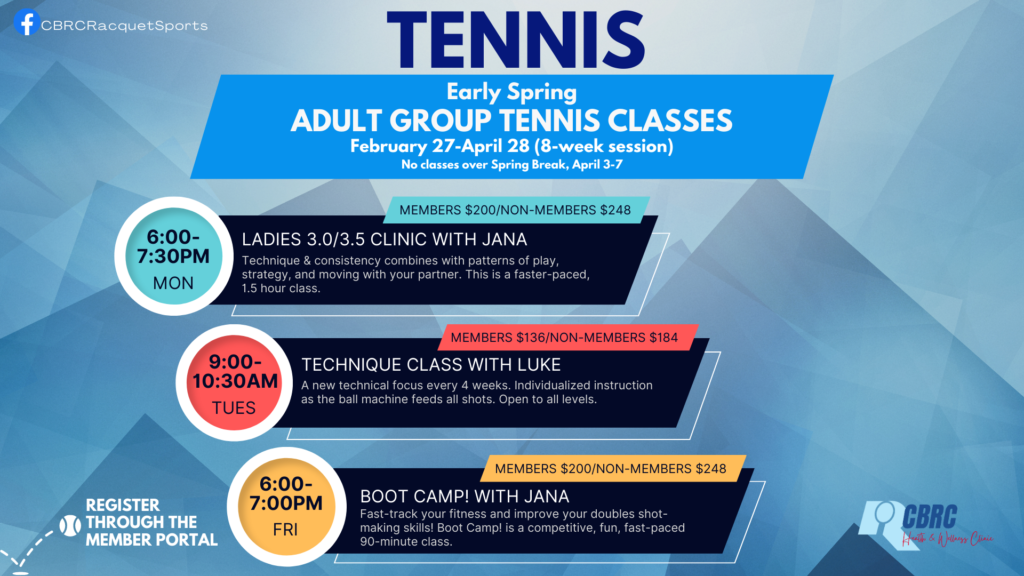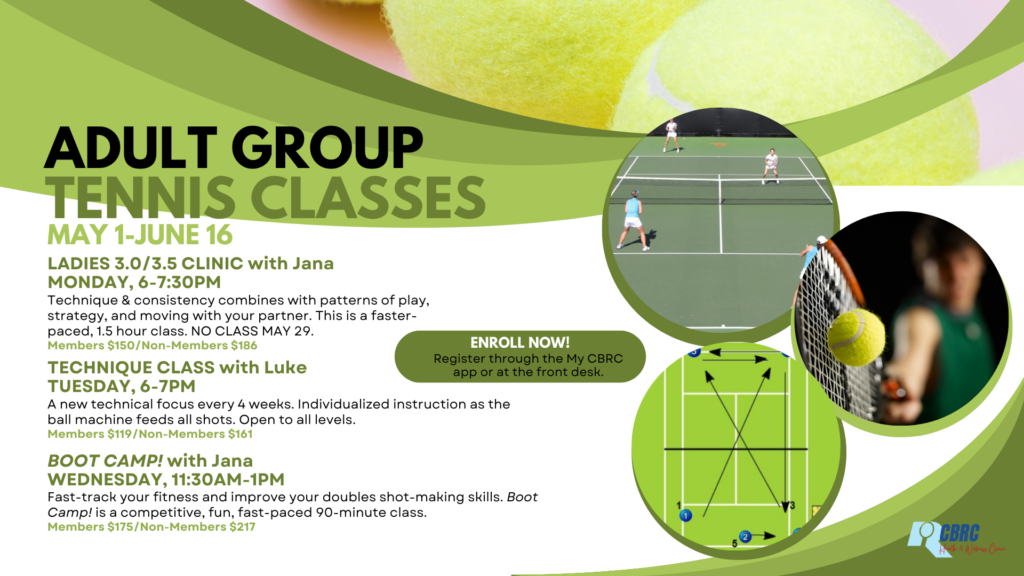 ---
Ladies 3.0/3.5 Clinic with Jana
Technique and consistency combined with patterns of play, strategy, and moving with your partner and the ball.  We will cover it all in the faster-paced 1.5 hour class.
February 27 – April 28
Mondays: 6-7:30 PM
$200 members/$248 guests
Technique Class with Luke
A new technical focus every 4 weeks.  Individualized instruction as the ball machine feeds all shots.  Open to all levels.
February 27 – April 28
Tuesdays 9-10:30Am
$136 members/$184 guests
Hidden Title
Boot Camp with Jana
Fast-track your fitness and improve your doubles shot-making skills!  You'll hit a ton of balls with lots of competitive and fun, fast-paced drills.  Boot Camp is a 90-minute class designed to elevate your doubles game and improve your tactical and strategic knowledge.
February 27 – April 28
Wednesdays 11:30AM – 1:00PM
$200 members/$248 guests
Hidden Title
USTA League
USTA League is the country's largest adult competitive tennis league. It's a great way to stay active, improve your tennis game, and even have the chance to compete for a National Championship. If you love tennis, you'll love USTA League. It is a great way to stay active, socialize and improve your game. League play starts at the local level for players 18 and over and is largely organized according to the National Tennis Rating Program (NTRP) by age group. Top teams from local leagues earn the chance to compete in district and/or sectional championships, while the winners of sectionals advance to the USTA League National Championships. Let us know if you're interested in playing on a team or need help putting one together. We also offer team lessons and coaching. Contact the Tennis Center for more information.
2023 USTA PNW League Schedule (Eastern Washington) schedule attached