CBRC Health & Wellness Clinic's Adult Tennis Program is designed for all adults who enjoy tennis. There are classes for many different ages and purposes including Adult 2.0-2.5 (Beginners), 90-Minute Boot Camp to get a great all-around workout, Adult 3.0 Hit Group, and more.
Fall Leagues begin on September 6, 2021.  Leagues are organized matches based on skill level open to all Full Club Memberships ages 16 and older.  Download the registration form (Ladies League | Men's League) and return it to the Tennis Center or email it to janawelt@my-cbrc.com no later than August 31.
Ladies League: Mondays, 6-7:30 PM
Senior League Drop-In: Tuesday & Friday, 1-2:30 PM
Men's League: Wednesdays, 6-7:30 PM
Ladies League: Thursdays, 8:30-10 AM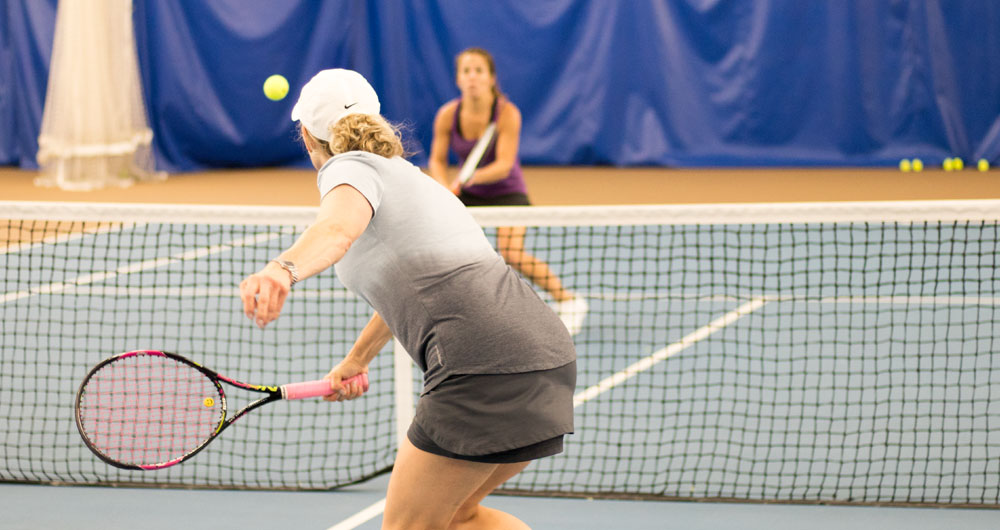 Fall Session I: August 30 – October 29
Fall Session II: November 1 – December 17
Pre-registration is required for all classes.  No drop-ins at this time.  Pro-rating is available for a late start into the session or pre-arranged absences.  Please contact the Tennis Department for more information.
---
90- Minute Boot Camp!
Fast-track your fitness and improve your doubles shot-making skills! You'll hit a ton of balls with lots of competitive and fun, fast-paced drills. Boot Camp is designed to elevate your doubles game and improve your tactical and strategic knowledge.
Hidden Title
Adult 3.0 Hit Group
For 2.5-3.0.  This is a fun-filled group where you will work on skills, fitness, and real-time play development.  Emphasis is on executing shots, court positions, power, depth, and directional control.
Hidden Title
Adult 2.0 – 2.5
It's never too late to "brush up" on your strokes or learn to play the sport of a lifetime –for the first time!  Each class will focus on a different stroke.  You'll learn the correct grips & techniques for the 5 basic strokes (forehand, backhand, volley, serve, and overhead) along with learning consistency and the general rules of the game.  Towards the end of each lesson, you will apply what you've learned to some fun, competitive games.  Develop a solid foundation today and learn to play for a lifetime!
Hidden Title
USTA League
USTA League is the country's largest adult competitive tennis league. It's a great way to stay active, improve your tennis game, and even have the chance to compete for a National Championship. If you love tennis, you'll love USTA League. It's is a great way to stay active, socialize and improve your game. League play starts at the local level for players 18-and-over and is largely organized according to the National Tennis Rating Program (NTRP) by age group. Top teams from local leagues earn the chance to compete in district and/or sectional championships, while the winners of sectionals advance to the USTA League National Championships. Let us know if you're interested in playing on a team or need help putting one together. We also offer team lessons and coaching. Contact the Tennis Center for more information.
2022 USTA PNW League Schedule (Eastern Washington) schedule attached