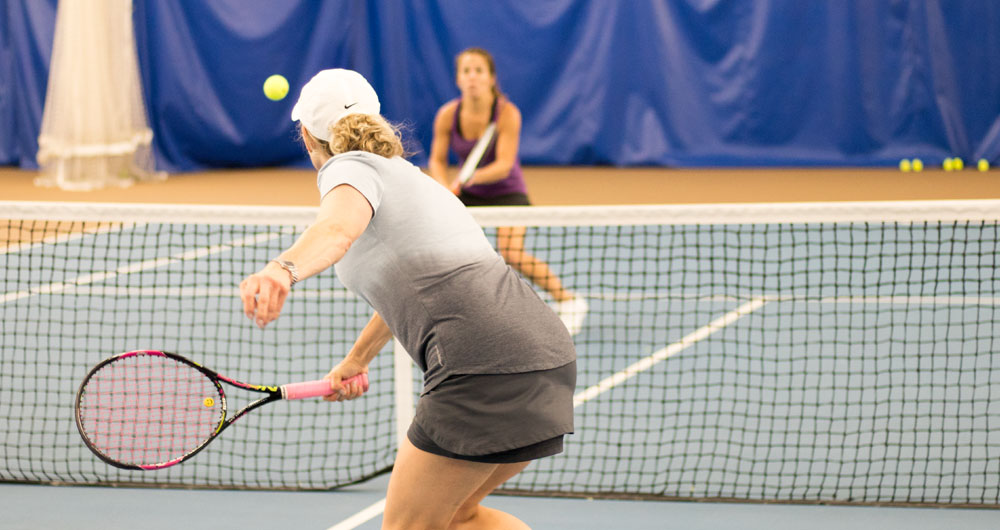 CBRC Health & Wellness Clinic's Adult Tennis Program is designed for anyone who enjoys tennis or wants to learn how to play. Join our Adult 3.0 Hit Group for intermediate & advanced beginners to hone your skills or get a great all-around workout in with our 90-Minute Boot Camp class. Both classes are on a drop-in basis.
---
Adult Leagues
Mixed Doubles League: Wednesdays 6-7:30 PM
Must sign up weekly on Club Automation. Sign-up opens the Wednesday before and closes the Monday before. Open to Full Club members only. Minimum playing level of 3.0. 2.5 level at Pro discretion.
Senior Leagues: Tuesdays 1-2:30 PM, Fridays 11:30 AM-1 PM
Our Senior Leagues are member-organized. Please contact the Tennis Department for more information. Free to all CBRC Full Club Members.  Call 509-943-8416 and ask the Tennis Department if you have any questions.
---
---
90- Minute Boot Camp!
Fast-track your fitness and improve your doubles shot-making skills! You'll hit a ton of balls with lots of competitive and fun, fast-paced drills. Boot Camp is designed to elevate your doubles game and improve your tactical and strategic knowledge.
Friday: 9:00 am
$17 members/$23 guests
Hidden Title
Adult 3.0 Hit Group
For 2.5-3.0.  This is a fun-filled group where you will work on skills, fitness, and real-time play development.  Emphasis is on executing shots, court positions, power, depth, and directional control.
Wednesday: 10:00 am
$25 members/$31 guests
Hidden Title
USTA League
USTA League is the country's largest adult competitive tennis league. It's a great way to stay active, improve your tennis game, and even have the chance to compete for a National Championship. If you love tennis, you'll love USTA League. It's is a great way to stay active, socialize and improve your game. League play starts at the local level for players 18-and-over and is largely organized according to the National Tennis Rating Program (NTRP) by age group. Top teams from local leagues earn the chance to compete in district and/or sectional championships, while the winners of sectionals advance to the USTA League National Championships. Let us know if you're interested in playing on a team or need help putting one together. We also offer team lessons and coaching. Contact the Tennis Center for more information.
2022 USTA PNW League Schedule (Eastern Washington) schedule attached