Will Taylor
Tennis Director
A native of the PNW, Will grew up in Vancouver, WA. Besides being a self-admitted foodie, Will really enjoys promoting the sport of tennis to new people. His goal is to grow the sport through grass roots programs in the Tri-Cities by working with the USTA and the Mid-Columbia Tennis Association (MCTA). Will specializes in working with high-performance juniors, but really loves teaching the sport to all ages and skill levels that want to learn. He received a Bachelor of Arts in Business Administration from Washington State University in 2008.
2002-2004: Played for Spokane CC
2nd Place at NWACC (1st Singles)
2nd Place at NWACC (1st Doubles)
2005–2009: Worked at Vancouver Tennis Center
2007: Coached the USTA PNW Junior Team Tennis 18 & under team; advanced to 3rd place at Nationals
2011: Hired as the Junior Development Tennis Professional at CBRC
2012: PNW USPTA Assistant Tennis Professional of the Year
2012: Hired as the Director of Tennis at CBRC
Jack Wang
Tennis Professional
Growing up in Vancouver, Washington, Jack started playing tennis at the age of 12 at the Vancouver Tennis Center. In 2010, Jack received a tennis scholarship to play at Grace College in Winona Lake, IN. During his time in college, Jack helped his team win two conference championships his junior and senior year while obtaining his degrees in Graphic Design and Sports Management.
After College, Jack moved to Miami, FL.  He worked at Cliff Drysdale Tennis and at the Ritz Carlton Tennis Garden for the two years.  While there he coached juniors and adults and had the opportunity to meet professional players.  
Jack has been a member of the Tennis Pro Staff at Columbia Basin Racquet Club since July of 2016 where he continues his work of teaching kids and adults his passion for the game. 
In his free time, Jack likes playing the piano, traveling, trying new food, and loves watching movies.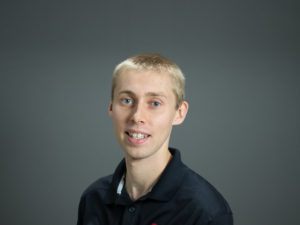 Luke Thompson
Tennis Professional
Luke grew up in Richland, WA.  He has been playing tennis at CBRC since he was 2 years old, or so he was told.  Luke played High School tennis at Hanford High School and played College tennis at Eastern Washington, and started teaching at CBRC in 2016.  Luke loves tennis and you can tell by the way he teaches. He actively listens and works on your ideas with you!  Take a lesson with Luke and you will appreciate the fantastic individual attention that he gives to your game.
Patti Kirch
Tennis Professional
Patti has been at CBRC for 20+ years and has been running the Sporthaus Sweet Spot Open for over 10 years! Patti is a fixture in the tennis community and CBRC is proud to have her on our staff.  Patti grew up in Canada and played College Tennis at Iowa State University.  In her free time she loves to craft and ski!
Dan Gleason
Certified Stringing Professional
Dan has been at CBRC since 1999!  Dan is a USRSA-Certified Stringer.
Gail Sears
Tennis Liaison
Gail has been with CBRC since 2016!  Gail is our go to person and helps with all of our administrative needs!