Jana Nejedly
Racquet Sports Director
Jana started playing at around 7 years of age. It was one of a few sports she played as a kid; her parents signed her up for group lessons at the local community center and she started competing not long after that.  Jana played professionally for about 10 years and was ranked as high as 64 in the world. She played in the Australian, French, and US Opens as well as Wimbledon.  She also represented Canada in the 1996 Olympics and Fed Cup Competition.  Jana isn't new to teaching. She has taught tennis for many years and shares that "I enjoy meeting and getting to know everyone that walks on my court. It's the best feeling when my students get excited about their overall improvement or about being able to do something they couldn't do before."
Email: janawelt@my-cbrc.com
---
Patti Kirch
Patti has been at CBRC for 20+ years and has been running the Sporthaus Sweet Spot Open for over 10 years! Patti is a fixture in the tennis community and CBRC is proud to have her on our staff.  Patti grew up in Canada and played College Tennis at Iowa State University.  In her free time, she loves to craft and ski!
---
Rob Knox
Rob, along with his wife Judy and kids Jake, Molly, and Kasey, has been a fixture in the Tri-Cities & Pacific Northwest tennis scene for decades as a coach and player. Rob played tennis at the University of Idaho and went on to play professionally in satellite tournaments in New Zealand and Australia, including the Australian Open before returning to Richland and establishing his career as a teaching professional.
Rob is available for private lessons. Please contact the Tennis Department for more information.
---
Kevin Meng
Coach Kevin "Qingshan" Meng comes to CBRC via Beijing, China. Kevin and his wife, Brittany, moved to the Tri-Cities in 2021 to await the birth of their first child, Henry, born in December 2021. Kevin graduated from Liaocheng University in Shandong, China in 2014 with BA in Physical Education with an emphasis on Tennis Coaching. He taught PE to grade school through high school kids in China for over 6 years and also taught and coached Taekwondo and also taught bilingual classes in English and Mandarin. Coach Kevin's experience teaching school-aged children makes him a great instructor for leading some of our younger Junior Development classes and teaching private lessons for all ages.
Jeff Peterson
Tennis Professional 
Jeff Petersen was the first teaching pro hired at CBRC and, now that he is retired as the CEO/President of a large regional investment advisory firm, he has returned to his passion of teaching and coaching tennis. Jeff is a USPTA Elite Pro and Technical & Match Analyst. He utilizes advanced technology normally reserved for touring tennis professionals as part of his coaching curriculum. Jeff's focus is on improving his clients' singles and doubles games, both technically and strategically. Jeff has over 40 years of experience as a Tennis Director, Facility Manager, tournament player at the sectional and national level, and participant on 3 USTA teams that qualified for nationals at the 4.5 and 5.0 levels.
Adding video sessions is a sure-fire way to see your improvement over a session or a series of lessons. Contact Jeff at jeffreyp@me.com or 509-531-2432 for private lessons with video services and also for coaching your USTA team. Video & analysis can be added to any lesson taught by a CBRC teaching professional.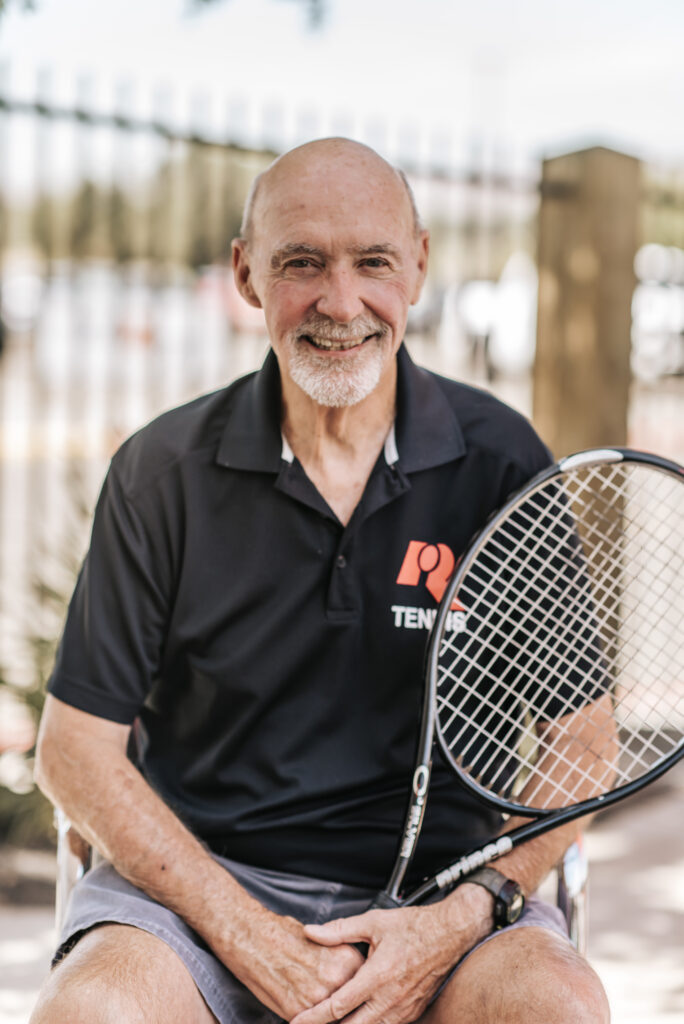 Dan Gleason
Certified Stringing Profession/Tennis Coach
Dan has been at CBRC since 1999!  Dan is a USRSA-Certified Stringer.
Tennis Assistant
Gail started at CBRC in October 2016 after a successful 25-year career in local media advertising, creating multi-platform advertising plans, and promotions for Tri-Cities-area businesses. As a young child, her passion for playing tennis was created through her mother and the Richland Parks & Rec program, and spent every day of summer vacations playing at the Howard Amon courts until graduation from Richland High School. During her first year at WSU, she walked onto the Women's tennis program in the Spring of '76 and soon discovered that Tennis was a year-round sport there, but was able to play one year for the Cougs on the JV/practice squad. Working life took over and tennis fell to the wayside so, after many decades of being away from the game, she came to CBRC to relearn the game. As luck would have it, an admin job in the Tennis Department opened as her Radio career came to an end. Gail has been able to utilize her skills from her media career and previous training in the world of print and design to enhance the CBRC Racquet Sports Department's social media presence and contact with the department's members. She is our go-to person and helps with all of our administrative needs.