Our Community Events focus on one or more of the 5 pillars of health: Exercise, Nutrition, Sleep, Social Wellness, and Mental Health.  Most events are for all levels.
---
Prenatal Yoga
March 25th | 10:45 AM | CBRC Mindbody Studio
Instructor: Kaitlin Carter, 200 HR-RYT
Yoga is a perfect way to restore and relax at all stages of motherhood and to prepare your body and mind for childbirth. This prenatal yoga class offers a one-hour combination of strengthening and stretching. You will learn effective breathing techniques, pelvic floor exercises, hip openers, as well as postures to release tension in the neck, shoulders, and back. This is a wonderful way to connect with yourself and your baby for the journey that lies ahead! This class is appropriate for all stages of pregnancy. No previous yoga experience is necessary to participate.
 Cost: Free for CBRC Members; $20/class for Guests
---
Yoga for Shoulder Health
March 10th, & 24th | 12:00 PM | CBRC Mindbody Studio
Instructor: Vibhuti Joshi, 200 HR-RYT
Irritation of the shoulders can be caused by constriction of the tendons and fascia in the shoulders and arms which then press on the nerves. Repetitive motion activities such as working with a computer daily, consistently painting walls, playing the guitar, or participating in a one-side dominant sport can cause the muscles and fascia to contract, restricting movement and often pinching the nerves.
These workshops will focus on only non-weight bearing poses to create Length and Space, to loosen the muscles and fascia of the arms and shoulders. Once you rediscover ease of movement by creating adequate length and space in your muscles and joint, you will learn how to establish Stability and Strength by building muscle tone.
Cost: $23/class for CBRC Members; $35/class for Guests
Yoga for Shoulder Health Registration
---
Pilates In The Vineyard – Ring in Spring
March 25th | 10:30 AM | Barnard Griffin
Instructor: Vicki Jordheim
Ring in Spring Pilates-style at Barnard Griffin!
Bring your own mat and prepare to develop the muscles of your core. In this edition of Pilates in the Vineyard, we will use the Ring and the Pilates Magic Circle to connect deeper into our core muscles as we practice the classical core exercises Joseph Pilates developed.
This class is perfect for those experienced with and new to Pilates, the original core workout.
Join us for a fun, challenging class followed by a social. A perfect way to Ring in Spring! Doors open at 10:00 am, and class will start around 10:30 am.
Cost: $25 for CBRC & Barnard Members; $35 for Guests
Tickets for this event include class and a glass of Barnard Griffin wine. Additional wine and food purchases are available on the day of the event. Rings will be provided.
Pilates In The Vineyard – Ring in Spring Registration
---
Barre, Bubbles & Brunch
April 15th | 10:30 AM | Alexandria Nicole Cellars
Instructors: Brittney Anderson & Amber Davis
CBRC's Barre Uncorked has partnered with Alexandria Nicole Cellars to bring you Barre, Bubbles, and Brunch on Saturday, April 15th!
Kick off your weekend at ANC's Prosser tasting room with a Barre class. This full-body workout blends traditional Pilates movement principles with low-impact, isometric strength training that will strengthen and tone your entire body. Whether this is your first Barre class or your hundredth, you will feel the Barre Burn!
Immediately following class, gather with your friends over a delicious brunch of savory quiches and fresh fruit with a glass of ANC's Adulting champagne or a glass of wine on tap.
Cost: $40 for CBRC & ANC members and $55 for guests
Barre, Bubbles & Brunch Registration
---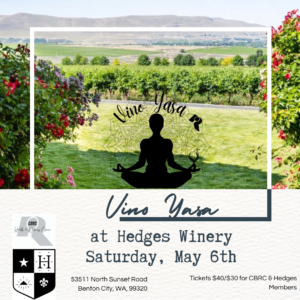 Vino Yasa
May 6th | 10:30 AM | Hedges Winery
Instructor: MillieAnne VanDevender
Sip, Shop & Zen!
Join CBRC Health & Wellness and Hedges Winery for the May 6, 2023, Vino Yasa Event. Start your morning by finding your zen with a yoga class overlooking the Horse Heaven Hills on the lawn at Hedge's winery, led by CBRC Yoga instructor Millie Anne Vandevender. After class, enjoy a glass of wine and then shop to your heart's content at the Spring Market at Hedges. The Outdoor Spring market will feature local artisans and food trucks.
Whether you are looking for a date with your significant other, a girl's gathering, or an early Mother's Day celebration, this is the event for you!
Tickets for this event include the yoga class and a glass of wine. Participants must be 21. Registration starts at 10:15, class will start at 10:30. The Spring Outdoor Market will run from 12:00 pm – 4:00 pm.
BYOM (bring your own mat) and prepare to sip, shop, and zen!
*in the event of incremental weather, this event will be canceled. If organizers cancel the event due to weather, a full refund will be given.
Cost: $30 for CBRC & Hedges members and $40 for guests