Three-year-old Claire walked into Columbia Basin Racquet Club with her mom Jill and noticed the fountain full of pennies for the first time. Jill remembers that Claire's face lit up when she explained that people would close their eyes, toss a coin into the fountain, and make a wish.
Unfortunately, Jill didn't have change with her but she made a mental note to bring some with her next time. It turns out, she didn't have to remember.
As they were leaving after their workouts, Darren Carstens called out Claire's name from the front counter and handed her a penny. He'd overhead them talking when they walked through the doors and saw how disappointed she was that she couldn't make a wish, so he made sure she could.
Claire hurried down the stairs, squeezed her eyes shut, peeked, and then closed them again as she threw the penny in the fountain.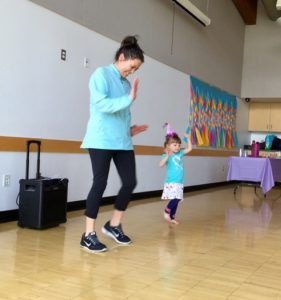 Jill had a similar positive experience when Claire was turning four. When Jill asked her what she wanted to do for her birthday, Claire said she wanted a dance party with Josie Salazar. She'd been attending Kids Zumba and loved Josie so much that wanted her friends to meet her, too.

This kindness and personal attention are what set the CBRC staff apart. They know who you are and greet you by name when you walk in the door. They encourage you to keep coming and always have fresh coffee in the morning. They remember which personal trainer or massage therapist you like most. They anticipate your questions, listen to your concerns, and celebrate your successes.

Jill was grateful for Josie's willingness to dance with little kids and for that small moment of joy that Darren gave Claire when he gave her a penny. "These acts of kindness, now years later, still bring smiles to me and my daughter," she said.

Claire is six now and she still remembers what she wished for that day. Jill doesn't actually know if Claire's wish came true, but she does know that CBRC will continue to be part of her family's health and wellness.