Summer is the perfect time to travel, but being on the road doesn't always provide the best opportunities to keep up with your fitness regimen. While most hotels have a fitness room, they rarely include all the machines and equipment that the Columbia Basin Racquet Club does.
Don't let that discourage you. You have several options to make sure you don't fall out of your routine.
PACK YOUR WALKING OR RUNNING SHOES
There's no better way to get your steps in than by exploring. Are you in a new city? See if there are sights within walking distance from your where you're staying. Check for a nearby park where you can run or walk in the morning. If you're not sure where to go, ask the hotel staff for safe recommendations.
YOGA
To practice yoga, you only need a routine to follow. It doesn't require a mat and you can use a scarf or robe tie as a strap. Best of all, you can do it anywhere because poses don't require a large space. If you haven't practiced yoga regularly, attend one of the several yoga classes at CBRC before you go and talk with the instructor about creating a sequence of poses that will work best for you.
RESISTANCE BANDS
If you're traveling light, then resistance bands are a good option. They're inexpensive, don't take up much space, and come in different weights. They won't replace your dumbbells but will tone a variety of muscle groups. Many sets of bands also come with some recommended exercises to get you started, or you can try some out in CBRC's weight room first.
BODYWEIGHT EXERCISES
Even if you don't have gym equipment, you can still sweat. Bodyweight trainer Sean Beltran says "Think of your body as an empty barbell. Changing the pace you move it with, holding awkward positions, adding instability and shaking up classic moves you've done all your life serve as the weight plates you load it up with."
CBRC trainers recommend the following 20-minute workout:
50 bodyweight squats
50 static lunges (25 on each leg)
50 mountain climbers
25 push-ups
1-minute plank forearms
2-minute wall sit
1-minute side right-side plank
1-minute side left-side plank
NAME WORKOUT
Need something to mix up the routine? Try assigning an exercise to a letter and spell out your first, last, or full name.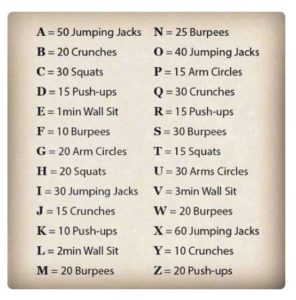 PLAN AHEAD
The most important part of working out while traveling is planning for it. Before you hit the road, make note of what activities you'll do and pack accordingly. If you're unsure about which option is the best for you, then check with the CBRC staff for recommendations. They'll help make sure your travel schedule doesn't give you a vacation from your fitness goals.